General Appointment
Geelong Orthopaedics
244 Malop Street
GEELONG, VIC 3220
Australia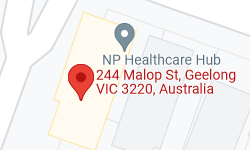 Click here
for driving directions and location map.
Werribee Orthopaedics
St Vincent's Private Hospital
Suite 5 Ground Floor,
240 Hoppers Lane,
Werribee VIC, 3030
Australia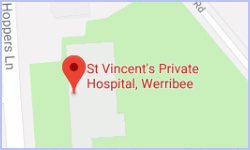 Click here
for driving directions and location map.

03 5222 4411

[javascript protected email address]

03 5221 6426

www.geelongorthopaedics.com.au


We are on Facebook

, click here to find out more.

Please arrive 10-15 minutes early for your Appointment for registration and to fill in a health questionnaire.
When you come for your appointment please remember to obtain and bring the following:
Referral letter from GP, family physician or other doctor
Medicare card, DVA card, Pension Card
Have your Private Hospital Insurance information with you
Copies of results of X-rays, MRI's, or CT scan etc. and any other relevant information
If you need to cancel an appointment
Telephone the office during business hours and allow at least 1 days' notice so that we can offer your appointment time to patients on our waiting list.